When these designs were originally created,
beaded bags were all the rage.
It was the Flapper Era...
The Roaring Twenties

No Thoroughly Modern Girl would have dreamed of going out for a night on the town without bringing along a shimmering beaded bag to hold her personal items...
Her outfit just wouldn't be complete without it!


Even now... in the 21st Century...
A beaded bag makes the perfect accessory when today's Thoroughly Modern Woman...
goes out for an evening's entertainment.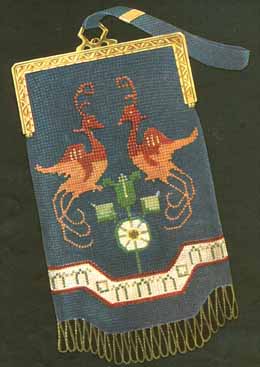 If you've ever tried to locate any of those original beaded items from the 1920's & 30's...
You know just how hard it can be to find bags and purses that are still intact...
Let alone ones that are durable enough to be used now.
And when you do find one that's in good shape, the asking price is usually SKY HIGH!

But what if you could make your own beaded bags and purses...?
And what if your newly-made beaded creations looked...
EXACTLY LIKE THE ORIGINALS?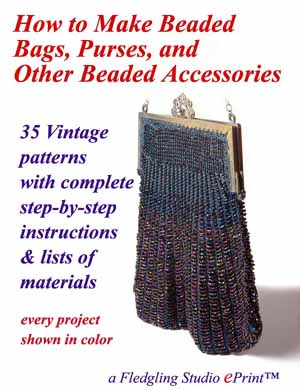 NOW YOU CAN...
Make your own beaded bags, purses, and other beaded accessories...
Just like the ones Great-Grandma used to have!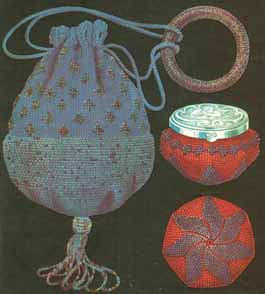 We've uncovered an original collection of patterns from the 1920's for making beaded bags, purses, and other beaded accessories.
This rare document, over 80 years old and long out-of-print, includes complete step-by-step instructions for more than 35 different beaded projects.
You'll find patterns for beaded purses, pouches, belts, and more... utilizing techniques such as beaded knitting, beaded crocheting, and loom beading.
Each project is illustrated in full-color so you can see exactly what your finished product will look like.
And each set of instructions includes a complete list of all the tools and materials you'll need for its creation.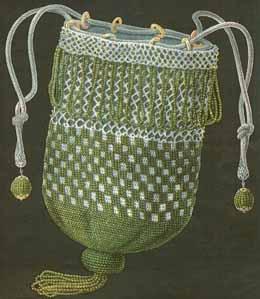 We've reproduced all 28 original pages from this rare volume in a convenient downloadable PDF eBook format.
You can read it right on your computer...
or print out individual patterns so you can take them anywhere.
Just how much are we asking for this fantastic collection?
If you've shopped for vintage beaded bags in antique shops, you know that just ONE bag, even in fair condition, can cost up to $100 or more.
You might get lucky and find one at a Flea Market for $50...
Or you might find a real bargain at a yard sale for only $20.
Maybe you were luckier still, and inherited an antique beaded purse that has been in your family for decades (It's probably pretty fragile by now).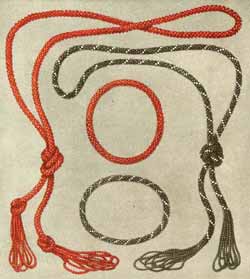 How much is a vintage collection of more than 35 different beading patterns worth?
You could shop in rare book stores for years and never find a single example of this elusive volume.
An Antiquarian bookseller might be able to search out a copy for you...
But at what price?
And how long might it take to locate one?
Well... we're happy to say that you won't have to haunt the used bookstores for the rest of your life...
And we're NOT going to charge you $100 for this near-priceless information.
We're not even going to charge you the Flea Market price of $50...
Or even the yard sale bargain price of $20.
By buying this rare book in digital format, you won't pay the extra costs of printing and binding.
And you won't pay for the warehouse space for us to store thousands of books while we wait for them to sell.
By receiving your book in digital format over the internet, you won't have to pay any packing and shipping charges.
So how much will you pay...?
How about...
$9.97
That's not a misprint...
In order to make these vintage beading patterns available to ANY collector or crafter who wants to own them, we've decided to set the price... at least for now... at just $9.97
But don't wait too long to order your copy.
We could decide at any time that our price is just too low and raise it to a level that's more in line with the REAL value of this information.
Here's what you'll receive when you purchase your digital copy today:
Every page from the original volume, 28 pages in all
Complete step-by-step instructions for each project, more than 35 of them
Complete lists of tools & materials needed for each pattern
All of the full-color illustrations, restored to their original brilliance - 14 of them, each one a full-page
Just as soon as you download your copy of this antique text, you can start making your own vintage-style beaded bags, purses, and other beaded accessories...
Right away...
Just as they were made over 80 years ago.
---
How to Make Beaded Bags, Purses,
and Other Beaded Accessories

Click the "Buy Now" button above to order your copy TODAY.
Pay with any major credit card. Your payment will be processed by PayPal.com.
A PayPal account is NOT required.
---
FREE Digital Delivery Worldwide!
After your payment is received, you can instantly download your e-book...
Whether it's the middle of the day,
or the middle of the night!

This digital PDF-format e-Book
is designed be downloaded and read on your computer
(or you may print out a copy for your own use)

(file size: 7MB)

This is a computer download;
NOT a printed book.
Nothing will be shipped to you by mail.
---
In order to view this PDF format manual, you'll need to have Adobe® Reader installed on your computer.
If you don't already have Reader, you can get it for free here:
Download Adobe® Reader

The eBook file comes compacted into a .ZIP file for faster download. You'll need an unZip utility to extract your eBook file. You can download a free trial copy of WinZip® here.
---
Our guarantee to you: If you are not satisfied with your purchase, notify us within 30 days for a full refund of your purchase price.